Orion 10,000 is a new trilogy and series directed and created by Survivefan23. It will take place after the events of Orion 10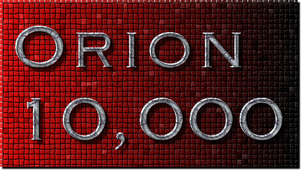 Timelines, specifically, the events after Graduation Part 2.
Airdate:
Edit
May 25th, 2015
After the events of Graduation Part 2, Orion is finally free of school. With his classmates and friends scattered everywhere, Orion must learn now to live the world around him. With his new Omnitrix 10,000 by his side and his teammates, he is ready to face whatever comes his way.
Synopsis:
Edit
The Series is about Orion Tennyson, an alien being that arrived on Earth 19 years ago. It follows his stories from autistic child to schizophrenic adult. He uses the Omnitrix, a powerful device that allows Orion to turn into 10,000 alien forms. This series uses both fictional and non-fictional elements in its stories of this mentally ill alien being who is trying to make a positive life for God while struggling with Paranoid Schizophrenia.
Main Characters:
Edit
Orion Michael Tennyson
Teresa Tennyson
Recurring Characters:
Edit
Lonnie Tennyson
Janet
Orion's Toys
Jeff Tennyson
Rook Blonko
Cassie
Daisy
Lucian
Lauren
Omnitron 10,000
Callie (Hallucinations)
Sarah
Cheyanne
Wyatt
Dwayne
Frank the Frankenstein Monster
Dr. Zenith
Kendall
Tyler (Ranger)
Koda (Ranger)
Chase (Ranger)
Riley (Ranger)
Shelby (Ranger)
Ivan (Ranger) (Coming Soon)
Unknown Aqua Ranger (Coming Soon)
Unknown Silver Ranger (Coming Soon)
Prince Phillip (Ranger) (Coming Soon)
Unknown Talon Ranger (Coming Soon)
Sable (Cat)
Missy (Dog)
Precious (Rat)
Callie (Cat)
Noisy (Quail)
Zoey (Dog)
Critter (Dog)
Sparkles (Dog)
Daisy (Dog)
Sabell (Cat) (Deceased)
Spice (Cat) (Deceased)
Winter (Dog) (Deceased)
Baby (Dog) (Deceased) (Mentioned)
Benji (Dog) (Deceased) (Mentioned)
Sam (Dog) (Deceased) (Mentioned)
Guest Stars:
Edit
Josh
Robert
Matthew
Blake
Thomas
Zack Scar (Online)
Amber
Alice
Jamie (Male)
Paul
Tyler
Anne
Ben Tennyson (Crossover)
Shelby
Alexis (Cameo)
Shaman
Cindy (Orion's old friend) (Possible Return)
Lashe (Deceased) (Mentioned)
Isaac (Deceased) (Mentioned)
W.L. (Deceased) (Mentioned)
Brother Pitts (Mentioned)
Christian Lady
Christian Lady's Son (Cameo)
Kay
Frankie
Brandon (Mentioned)
Molly (Mentioned)
Arthur
Terry
Madeline
Judy
Eric (Ranger) (Interview)
Orion (Ranger) (Interview)
Dillon (Ranger) (Interview)
Judd "Chip" Lynn (Interview)
Poisandra (Show)
Wrench (Show)
Puzzler (Show)
Fury (Show)
Keeper (Show)
Sledge (Show)
Curio (Show)
Shane (Ranger)
Tori (Ranger)
Dustin (Ranger)
Hunter (Show)
Blake (Navy Ranger) (Show)
Cam (Show
Mrs. Ramsey
Jim
Peyton
Sensei the guinea pig (Show)
Lothor (Show)
Blue (Orion's Stuffed Puppy)
Alien X
Antstrong
Outbreak
Rath
Echo Echo
Snare-Oh
XLR8
Sandbox
Slamstrike
Armodrillo
Cyborg
Spykeback
Madblender
Ghostfreak
Ampfibian
Water Hazard
NRG
Articguana
Buzzshock
Spitter
Atomix
Badaboom
Bantor
Big Chill
Blastback
Blocker
Cat Attack
ChamAlien
Chromastone
Creeper
Cyberfire
Diamondhead
Eon
Gasket
Headsight
Heatblast
High Voltage
Humoungousaur
Joker
Knightguard
Loud Volume
Magnatude
Metallo
Minibot
Muscleman
Overflow
Overkill
Oxen
Rockhard
Rocks
Scorch
Shockstinger
Squidstrictor
The Fallen
Toepick
Upgrade
Jetray
Fasttrack
Rubix Rhino
Arc Master
Zoron
Bloxx
Brains & Brawn
Brainstorm
Centron
Eatle
Fourarms
Grey Matter
Icepick
Jetray
Jetstream
Putty
Rescue King
Sharp Shot
Swampfire
Tail Whip
Tunnel Hide
Ultimate Chromastone
Blitzwolfer
Death Claw
Death Flash
Demonfire
Eye Guy
Gutrot
Whampire
Grim Creeper
Adapter
Angelhands
Cyborg
Astrodactyl
Black Ice
Blackstone
Bonehead
Pirate X
Goop
Gravattack
Longrack
Kickin' Hawk
Lodestar
War Machine
Bone Blaster
Squadfire
Dino Thunder
Wildmutt
Terraspin
Timelapse
Thunderhoof
Ultimate Diamondhead
Ultimate Clockwork
Ultimate Squidstrictor
Bullfrag
Blue
Sideswipe
Episodes:
Edit
Season 1: (The New Beginning)
1.) A New Beginning Part 1
2.) A New Beginning Part 2
3.) Project 10,000
4.) Return of the King
5.) A Change for the Better 4
6.) X = O + C (July)
7.) Power Up Rescue King!
8.) Protector of the Earth
9.) Insect Wars (August)
10.) When Pirates Attack!
Season 2: (Alien Origins)
11.) Origins: Outbreak
12.) Origins: Blocker
13.) Origins: Omega Power!
14.) Origins: Snakepit
15.) Origins: Overkill
16.) Origins: Squidstrictor
Season 3 (Galactic Monsters)
17.) Darkness Falls
18.) Are U Ready For The Monsters?
19.) Galactic Monsters Part 1
20.) Galactic Monsters Part 2
Season 4 (The Holidays Part 1)
21.) Bring Out the Light!
22.) When Times Change
23.) Dead Secrets
24.) The Turkey Calls
Season 5 (The Holidays Part 2)
25.) Coming to a Close
26.) Near the End
27.) Winter Falls
28.) When Love Came Down
Season 6 (The New Year: 2016)
29.) 2016!
30.) Plans for the New Year
31.) Engage
32.) The Times are Changing
Season 7 (Harsh History)
33.) Break Through the Depression
34.) Crash Course
35.) History Repeats
36.) The 4th Death
Season 8 (Rescue Mission)
34.) We're Going On A Rescue Mission
35.) Location, Location, Location
36.) The Hidden Files
37.) Saving Cindy (Movie)
The Theme song was supposed to be SAVE THE FUTURE! from Transformers Adventure, but was replaced by the theme to Power Rangers Dino Charge.
In January 2016, the original theme song titled SAVE THE FUTURE! will be used, replacing Dino Charge.