Battle of the Time Warp is an all new movie set to debut in the Summer of 2016!.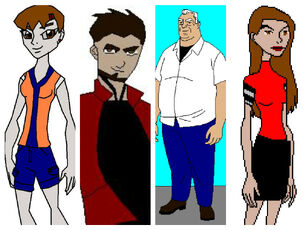 Airdate:
Edit
A huge time warm hole has opened both on Earth and in Heaven. To stop this threat, a group of 4 angels is summoned by Jesus Christ himself to stop this menace. The angles have one mission, to team up with Orion and his crew and stop this time flow from devouring the entire universe. It will take more than one hero to stop it. Meaning Ben Tennyson, Gwen and Kevin arrive from their dimension to aid in their mission.
Major Events:
Edit
Gwen and Kevin Debut!
W.L & Isaac Debut!
The Quad Energem makes its debut!
Laserwave Debuts!
Characters:
Edit
Orion Tennyson
Rook Blonko
Jesus Christ
W.L
Callie
Lashe
Kendall
Omnitron 10,000
Daisy
Lucian
Cassie
Lauren
Ben Tennyson
Gwen Tennyson
Kevin Levin
Max Tennyson
Tyler
Chase
Koda
Riley
Shelby
Ivan
Keeper
Prince Phillip
Aliens Used by Ben:
Edit
Clockwork
Astrodactyl
Feedback
Chromastone
Rocks
Squidstrictor
Brainstorm
Heatblast
Humoungousaur
Big Chill
Terraspin
Upgrade
Cannonbolt
Frankenstrike
Gravattack
Jetray
Stinkfly
Ampfibian
Aliens Used by Orion:
Edit
Chromastone
Diamondhead
Laserwave (Debut)
Rath/Ultimate Rath/Omega Rath
Feedback/Ultimate Feedback/Omega Feedback
Eon
Clockwork
Evac
Frankenstrike
Outbreak/Ultimate Outbreak
Astrodactyl/Ultimate Astrodactyl
Soundwarp
Ultra Striker
Lockdown
Medix
Metallo
Wreckage/Ultimate Wreckage
Gravattack/Ultimate Gravattack
Drift
Crosshairs
Angelhands
Alien X/Ultimate Alien X/Omega Alien X
Ranger Suits Used:
Edit
Dino Charge Yellow (by Lashe)
Dino Charge Kentro (by Isaac)
Dino Charge White (by W.L)
Dino Charge Ammonite (by Ben)
Dino Charge Cupid (by Gwen)
Dino Charge Clone (by Kevin)
Dino Charge Red/Dino Drive (by Tyler)
Dino Charge Black/Dino Drive (by Chase)
Dino Charge Blue/Dino Drive (by Koda)
Dino Charge Green/Dino Drive (by Riley)
Dino Charge Pink/Dino Drive (by Shelby)
Dino Charge Gold/Dino Drive (By Ivan)
Dino Charge Aqua/Dino Charge Laugh (by Daisy)
Dino Charge Graphite (by Prince Phillip)
Dino Charge Purple/Dino Drive (by Kendall)
Dino Charge Silver (by Keeper)
Dino Charge Talon (by Lucian)
Dino Charge Stretch (by Lauren)
Dino Charge Gravity (by Cassie)
Dino Charge Helio (by Max Tennyson)