A New Beginning Part 1 is the first of two parts of the new trilogy called Orion 10,000.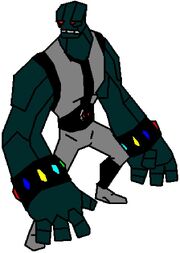 Airdate:
Edit
May 23 - 30, 2015
Taking place 1 or 2 days after Graduation Part 2 left off, Orion is now in the real world, now equipped with the Omnitrix 10,000, he now starts his epic new chapter off with a bang.
Major Events:
Edit
Orion uses Jetjaws (a combo of Ripjaws and Jetray) for the first time!
Orion scans and gets Sharp Shot!
Orion uses Rockhard, Outbreak, Atomix, Arc Master, Icepick, Squidstrictor, Snakepit, Tunnel Hide, and Oxen for the first time!
Characters:
Edit
Orion Tennyson
Janet
Teresa
Josh
Robert
Lonnie
Lucian
Daisy
Omnitron 10,000
Villains:
Edit
Wyatt
Cheyanne
Sarah
loose chicken
Aliens Used:
Edit
Rockhard
XLR8
Outbreak
Jetjaws (Debut)
Water Hazard
Ripjaws
Jetray
ChamAlien
Fasttrack
Centron
Zoron
Atomix
Arc Master
Tunnel Hide
Snakepit/Ultimate Snakepit
Icepick
Squidstrictor
Oxen
Whampire
Perceptor
(Orion turns into Outbreak)
Outbreak: OUTBREAK! (Starts chasing chicken) Come here you little freak! (Screams) (Dogs start chasing it) Heck yeah! Look at em go! (Chicken is blocked)
Outbreak: Yeah, how did ya like that you brainless feather head! (Goes under house) Oh well, he'll come back, eventually. Scared the feathers off him, really!
(Orion turns into Rockhard)
Rockhard: Rockhard!
(Activates Water gem stone) Rockhard! Water Blast! (Fires a tidal wave at the kids)
The chicken chasing scene was a scene that was gonna be cut, but it was better than I expected.
The history of the Element Gems that Rockhard uses will be explained in Episode 15, which will be Rockhard's origin story.